These are artworks/illustrations made for the exhibition Fortida framfor oss – "the past ahead of us" – at The Falstad Centre.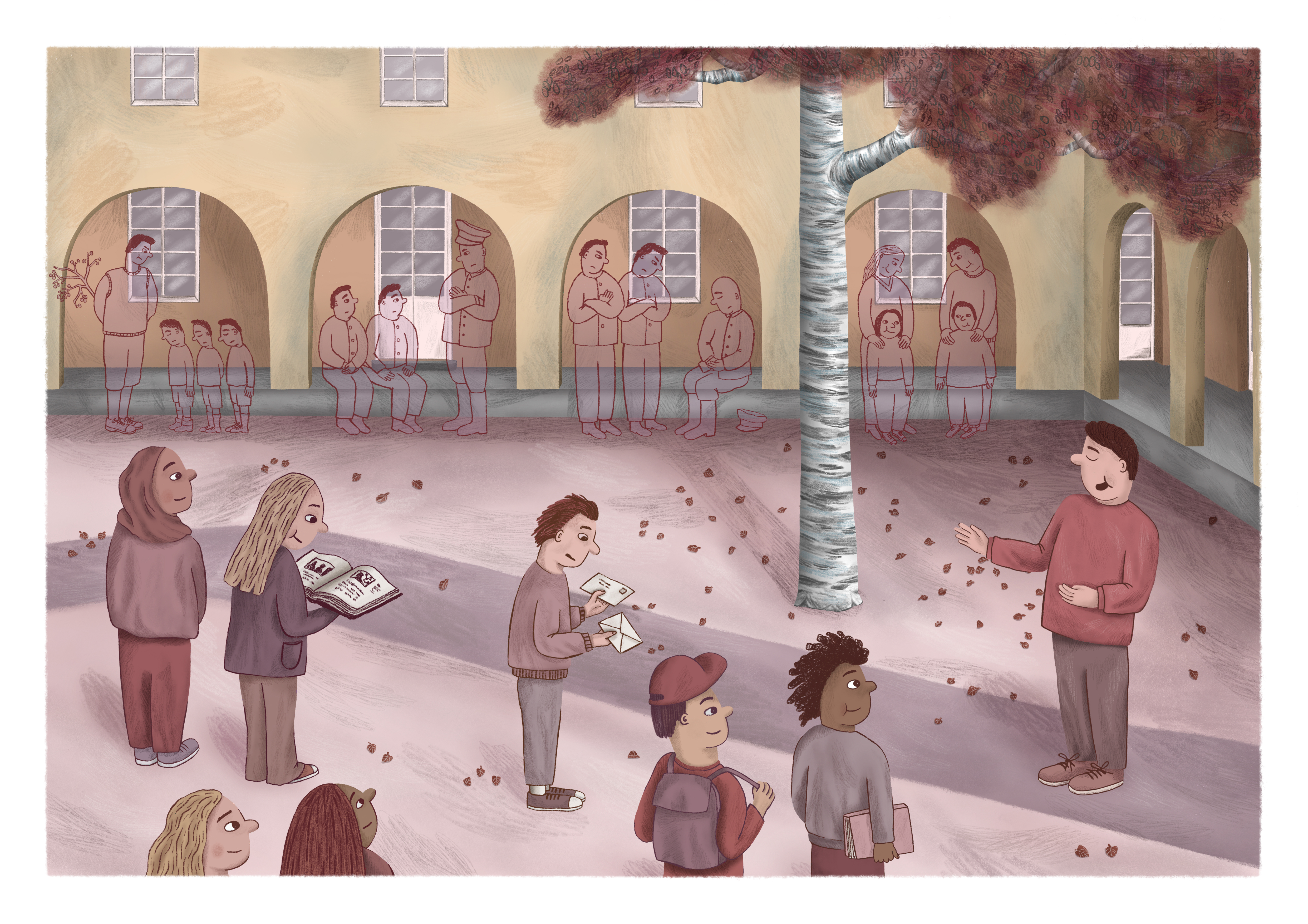 The Falstad Centre today
The Falstad Centre
is located in Ekne, in the midst of Norway. The main building was constucted in the 1920s for The Falstad Reformative School, a school for boys who had either comitted crime or had been neglected.
During the Second World War The German Security Police established SS-Strafgefangenenlager Falstad as a prison camp for political prisoners. Falstad functioned as a labour camp, a transit camp and a death camp.
The Falstad Centre is surrounded by a large spruce forest. During the period 1942–43, more than 200 prisoners were executed and buried in mass graves in the Falstad Forest. After the war, the bodies were exhumed, but there are probably still unregistered graves in the forest. In 1989 the Falstad Forest was granted statutory protection as an execution site and war cemetery by the Ministry of Environment, authorised by the Cultural Heritage Act. Today the Falstad Forest is a national memorial site.
After the war ended, Falstad was turned into a forced labour camp for people convicted of treason, named Innherad Forced Labour Camp. From 1951 until 1992, the Falstad building was again used for school purposes, under several names through the years.
The Falstad Centre Foundation was established in 2000 as a national centre for the education and documentation of the history of imprisonment during the Second World War, humanitarian international law and human rights. In 2006, the center moved into what was once the main building in the SS-Strafgefangenenlager Falstad. Today The Falstad Centre is an active and living place of memory, open to the public and for school/students, who travels here to learn more and come face to face with history.
Source:
www.falstadsenteret.no
The Falstad Reformative School
The SS-Strafgefangenenlager Falstad
A jewish family in Trondheim before the war broke out
An illegal "post office" on a nearby farm during WWII
The Falstad Forest

The exhibition Fortida framfor oss mainly focuses on Falstad during the Second World War, but it also takes a look at the other eras through the history of Falstad.

Five of the illustrations represent five moments in history, one from The Falstad Reformative School, and the other four from the Second World War. In addition there's an illustration of The Falstad Centre as it is today, with each historical period illustrated in the background. One small vignette illustration accompanies each of the main illustrations, based on the story behind them.

In addition to being montered large format in the exhibition, all the illustrations were also printed in one colour card size, for teaching purposes. The students localizes their work stations in the exhibition area from the color of the motif.